Hello my lovelies,
A bit of an unscheduled coffee chat but it's good news and there is always reason enough for a coffee or tea!
I've been nominated for the Most Inspiring Beauty Blog Award at Coupon and I am absolutely honoured.
If you like my science infused blog it would mean the absolute world to me if you voted. It takes literally 1 click, no registration or any fuss required.
Click here to be directed to the voting site.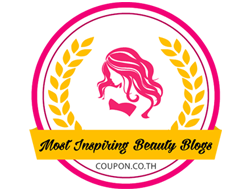 The price, €300, is divided between the nominated bloggers according to their percentage of votes received, so every single vote counts. Above all though, it's an honour to know that you like this blog and that it helps you with some decisions or information. It's things like these that keep a blogger motivated to keep going so please show some love. You can vote once per device, it's free and takes just 1 click.
Coupon.co.th is a website that covers a range of countries (15 so far) that allows you to search for promos and discounts and find the best deal for you. From how I understand it, it's a bit like comparethemarket or skyscanner type of website that basically brings you all the information in one place for you to choose from, saving you money along the way.
All you need to do is search for a discount at a shop or a category, get the discount and then use it! You can subscribe for free by email and even receive the top 5 deals every week in your inbox. And since it works in different countries, it might just be the perfect tool for travelling cheaper and taking advantage of different offers!
Anyhow, I wasn't aware of this website (every day is a school day) but it sounds exciting and I'm looking forward to them expanding in the UK hopefully soon. Nevertheless, somehow I got nominated on their website and I am very excited and grateful for it.
Thank you all very much for your support. This blog would be nothing without you.
Lots of love,
Bonds of Beauty